Tuesday - Friday open between 10:00 a.m. and 8:00 p.m.
Saturdays - open between 9:00 a.m. and 4:00 p.m.
Sundays - Closed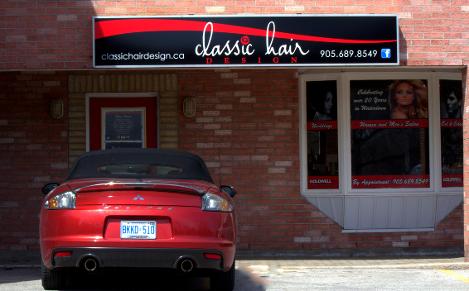 331 Dundas St E, Waterdown, Ontario L0R 2H0, CA | 905 689 8549
Classic Hair Design is a beauty salon located in Waterdown, Ontario. We offer two great hair colour system, Goldwell and Oya Hair colour. Services offered; Haircut for ladies, haircut for men, barber shop, beard trim, children haircut, razor haircuts, hair design for Ladies and men. We specialize in colour correction and hair colour makeovers. We specialize in foil highlights such as ombre highlights, balayage highlights, shadow highlights, silver highlights and hand painted highlights. We specialize in curly hair, permanent hair straightening, frizz relaxers, hair texturizing. We specialize in perms, the modern perm for long hair, short hair perm, spiral perms and beach wave perm. We specialize in prom updos, graduation updo, wedding party, large wedding parties, bridal updos, bridal makeup, bridal brunch, bridal package. We also provide facial waxing.
Classic Hair Design sells Goldwell and KMS hair styling products.
Serving Waterdown, Oakville, Burlington, Hamilton, Dundas, Ancaster for over 25years